Reach all your students' families
Communicate with families in their home languages to build strong partnerships all year long. Join the millions of teachers, families, and caregivers who already use TalkingPoints.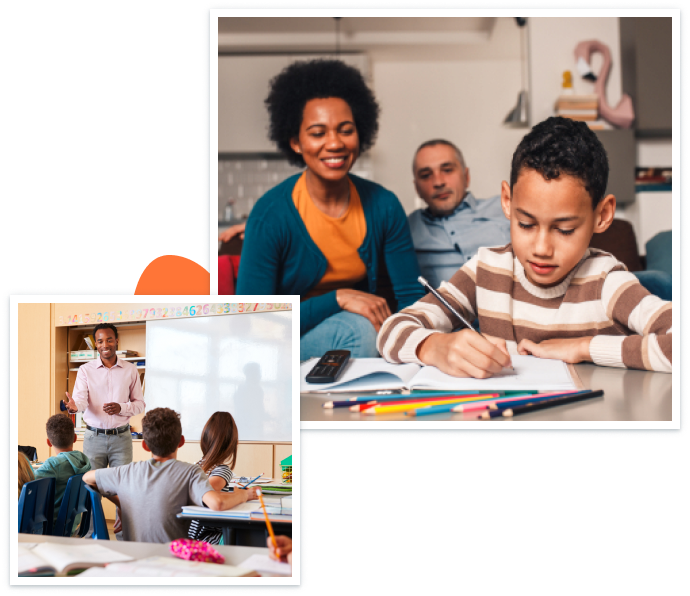 TalkingPoints is an edtech nonprofit with a mission to drive student success through effective family-school partnerships.
How it works
Always free for teachers! Available on the web and mobile app
Easy to use
Teachers can use a web browser or mobile app; families text, use a mobile app, or a web browser.
No language barriers
Interact with any family member in their home language - you write in English, families message back in their own language.
Meaningful family engagement
Teachers and families find in-app tips and guidance to support positive relationship-building.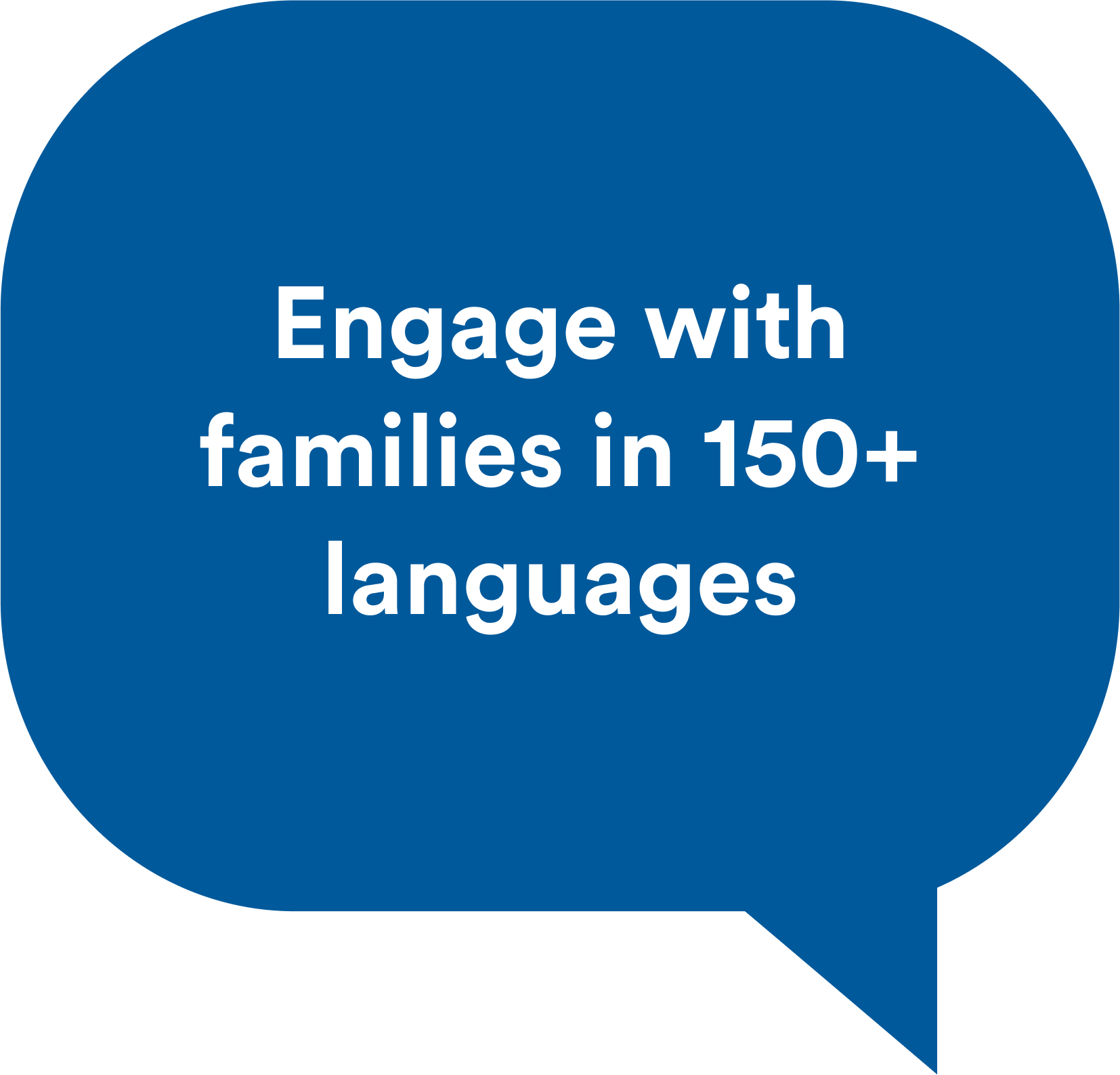 English
Spanish
Arabic
Vietnamese
Chinese (Simplified)
Chinese (Traditional)
Somali
French
Portuguese
Burmese
Swahili
Nepali
Russian
Korean
Hindi
Albanian
Khmer
Tagalog
Japanese
Farsi
Urdu
Haitian Creole
All available languages
At TalkingPoints we are working hard to reduce the language barrier for non-English speaking families of diverse backgrounds. We are currently offering message translation in more than 150 languages on our platform.
Afrikaans
Albanian
Amharic
Arabic
Armenian
Assamese
Aymara
Azerbaijani
Bambara
Bashkir
Basque
Belarusian
Bengali
Bhojpuri
Bosnian
Bulgarian
Burmese
Cabo Verdean*
Cambodian (Khmer)
Catalan
Cebuano
Chinese (Simplified/Mandarin)
Chinese (Traditional/Cantonese)
Chuukese*
Corsican
Croatian
Czech
Danish
Dari
Divehi
Dogri
Dutch
English
Estonian
Ewe
Faroese
Farsi (Persian)
Fijian
Filipino (Tagalog)
Finnish
French
Frisian
Galician
Georgian
German
Greek
Guarani
Gujarati
Haitian Creole
Hausa
Hawaiian
Hebrew
Hindi
Hmong
Hungarian
Icelandic
Igbo
Ilocano
Indonesian
Inuinnaqtun
Inuktitut
Irish
Italian
Japanese
Javanese
Kannada
Karen*
Kazakh
Kinyarwanda
Kirundi
Konkani
Korean
Krio
Kurdish (Kurmanji/Northern)
Kurdish (Sorani/Central)
Kyrgyz
Lao
Latvian
Lingala
Lithuanian
Lower Sorbian
Luganda
Luxembourgish
Macedonian
Maithili
Malagasy
Malay
Malayalam
Maltese
Maori
Marathi
Marshallese*
Meiteilon (Manipuri)
Mizo
Mongolian
Nepali
Northern Sotho
Norwegian
Nyanja (Chichewa)
Odia
Oromo
Pashto
Polish
Portuguese
Punjabi
Quechua
Queretaro Otomi
Romanian
Russian
Samoan
Scots Gaelic
Sepedi
Serbian
Sesotho
Setswana
Shona
Sindhi
Sinhala
Slovak
Slovenian
Somali
Spanish
Sundanese
Swahili
Swedish
Tahitian
Tajik
Tamil
Tatar
Telugu
Thai
Tibetan
Tigrinya
Tongan
Tsonga
Turkish
Turkmen
Twi
Ukrainian
Upper Sorbian
Urdu
Uyghur
Uzbek
Vietnamese
Welsh
Xhosa
Yiddish
Yoruba
Yucatec Maya
Zulu
*We invest in human-translated templates and district messaging support for these languages where no machine translation exists.
Contact us
for details.
Connecting teachers and families
Watch our one-minute video to hear teachers share their experience with TalkingPoints.
Teachers love TalkingPoints
Lifeline
TalkingPoints is our Lifeline! Best tool ever for communicating with our EL families in their home languages.
Easy communication
Using TalkingPoints helped me communicate so much easier. Parents who don't want to download apps can still text...which is the best part!
I Am Connected
Because of TalkingPoints I am more connected to what is happening at school. Especially what they are doing in the curriculum and teaching, and how my son and other children develop.
Use it everyday
Teachers have busy schedules and don't have a lot of time to learn how to use a new tool, but what I shared with our team and want other educators to know is how easy it is to communicate with parents through TalkingPoints. I love it and use it everyday!
Meaningful engagement
TalkingPoints, thank you for making it possible for educators to connect and engage meaningfully with the families of our ELLS/MLLS!
I Feel Empowered
I feel more empowered because I know what's going on with my daughter's education.
Peace of mind
I think the success this year was really in keeping those lines [of communication] open with parents and the peace of mind that I have that ALL of my families are getting the same information. Also, they all have the same opportunity to communicate with me as well.
Giving a voice
Thank you for your product giving EL families a VOICE! I am a first generation American that now works as an EL teacher. I am forever grateful for you, TalkingPoints.
A helping hand
I like TalkingPoints very much, especially when teachers send us reminders about homework assignments, quiz, etc. It really helps me to be on top of my son. I really appreciate this program.
Greatly improved communication
I used TalkingPoints for the first time, and that resulted in greatly improved communication with families, particularly for my newcomer students. I am very grateful and I feel strongly that it made a very challenging time more manageable for my students and their families."
More great features and resources for teachers
The teacher app offers polls, office hours, scheduling, message templates, and more.