Our translation difference
We make communication understandable, accessible, and equitable. TalkingPoints is the only platform that has always offered two-way enhanced translation, powered by both human translators and machine-learning algorithms.
Since day one, our focus has been on building relationships between families and schools in under-resourced, multilingual communities with the greatest need for support. No smartphones, computers, or wifi required; for families, getting started is as simple as texting.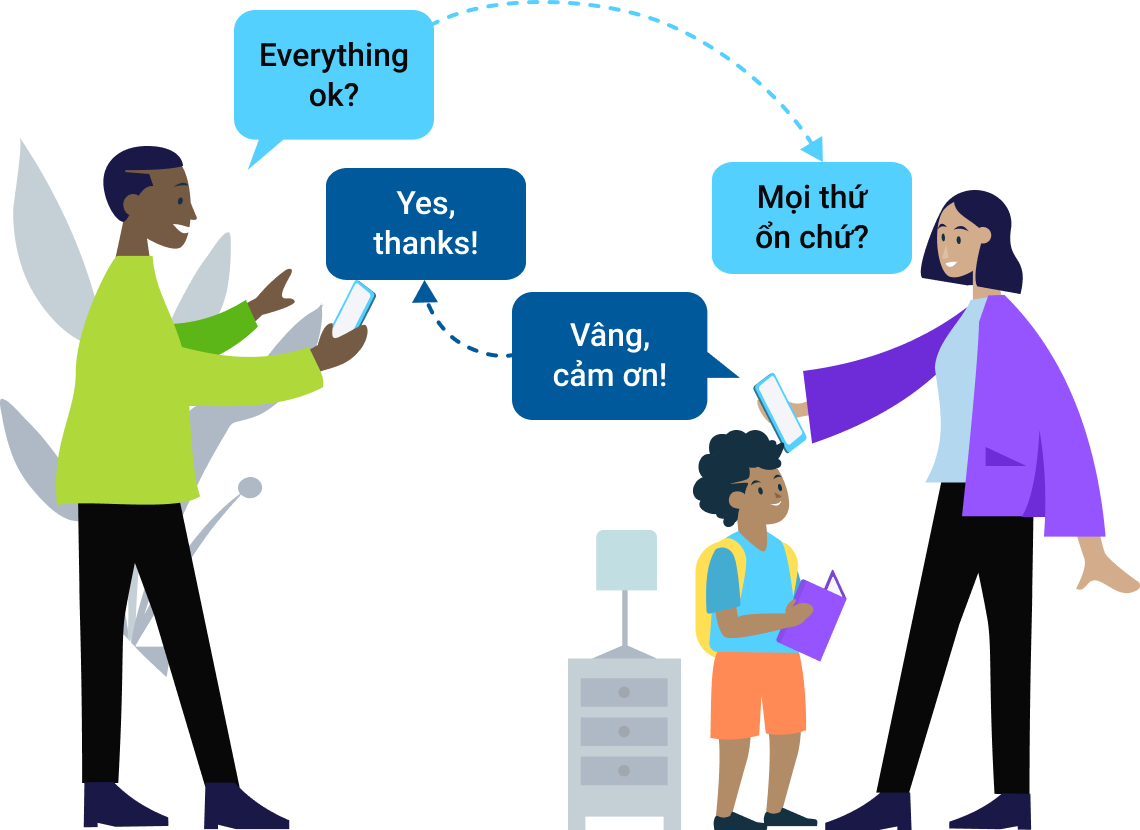 Continual innovation
We are always building new ways to expand support for multilingual school-family engagement.
In-product features like on-demand "help me understand" human-reviewed translation and videos with translated captions are just a few examples of innovative tools we've built into TalkingPoints to support understandable, accessible communication.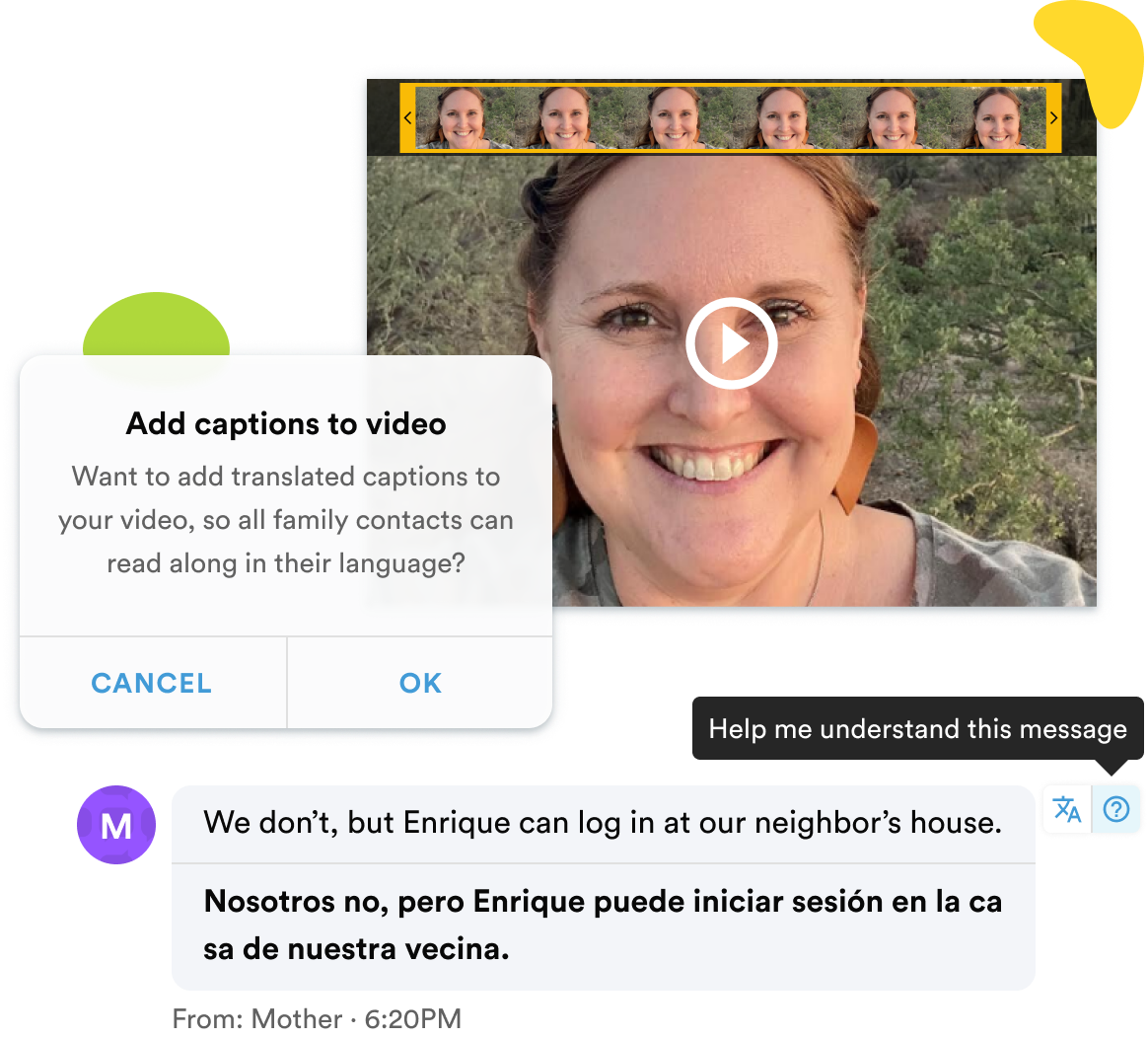 Pushing boundaries
We are partnering with districts to pilot groundbreaking fully human-supported translation services to connect schools with families who speak languages that are not available via machine translation, such as Karen and Cabo Verdean Creole.

R&D
We are hard at work on the next generation of translation and accessibility features in TalkingPoints. We are always working to remove barriers to communication by improving translation and understandability for families and educators.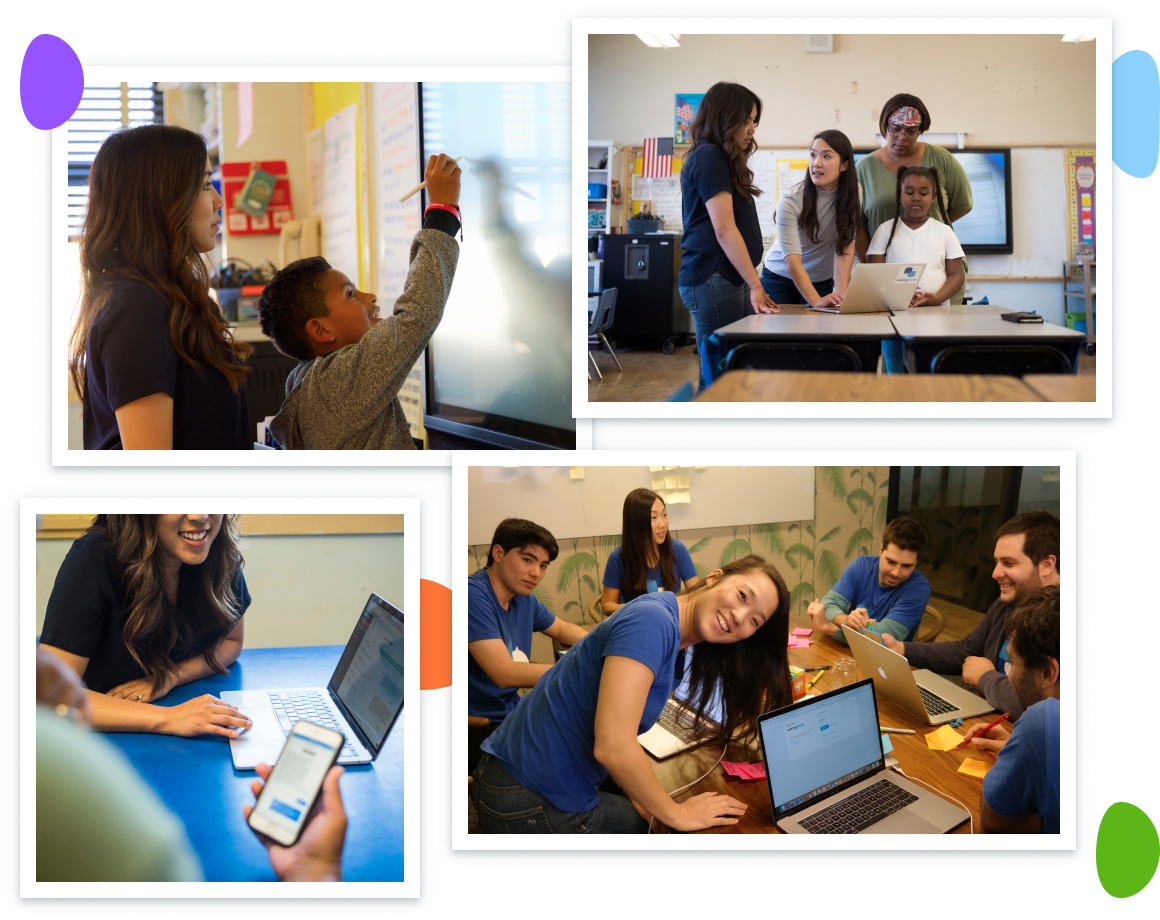 How it works
Our machine learning translation solution uses education context-specific language that might otherwise be mistranslated in other settings. Feedback from users and translators continually informs and improves our algorithms. We are differentiated from other publicly available machine translation systems because our proprietary solution continuously improves using always-on input from human translators, conversation data, and custom glossaries designed for the education domain.
Human translation
We work with a network of vetted linguists to translate messages and evaluate system accuracy to ensure our translations are of the highest quality. Overall 99% of the messages sent through TalkingPoints offer human translation support.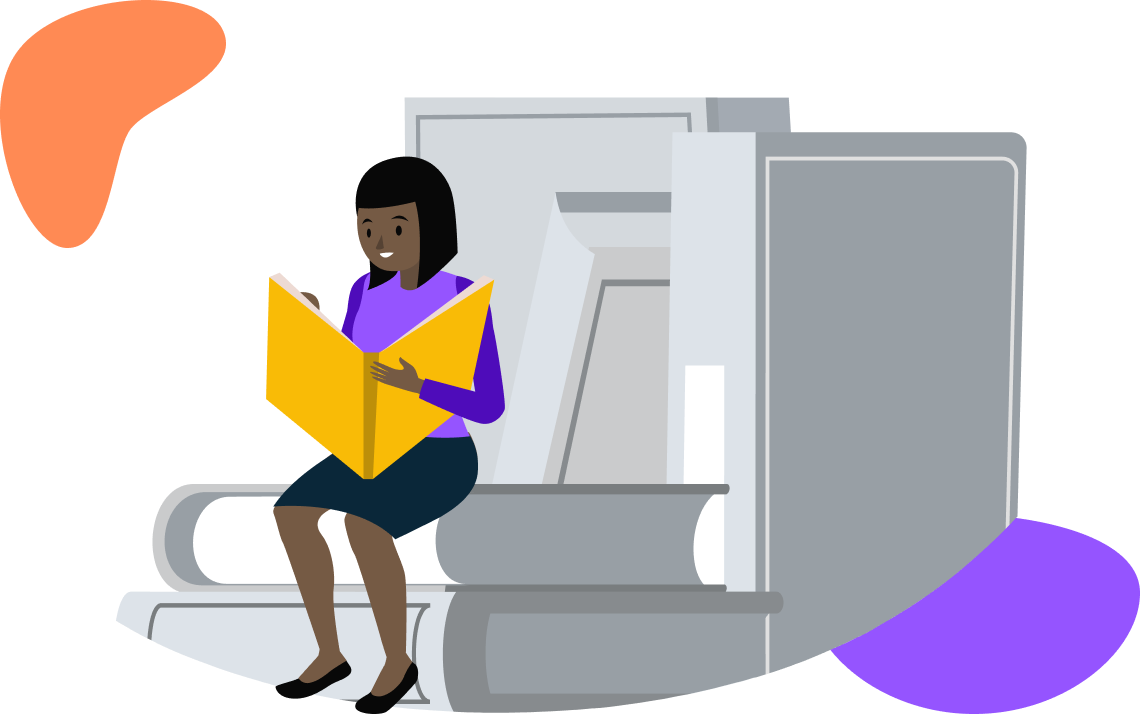 Education glossary
Our embedded proprietary glossary ensures school terms, proper nouns, and words with multiple meanings make sense in an educational context. This helps avoid misunderstandings and confusion when messages are translated.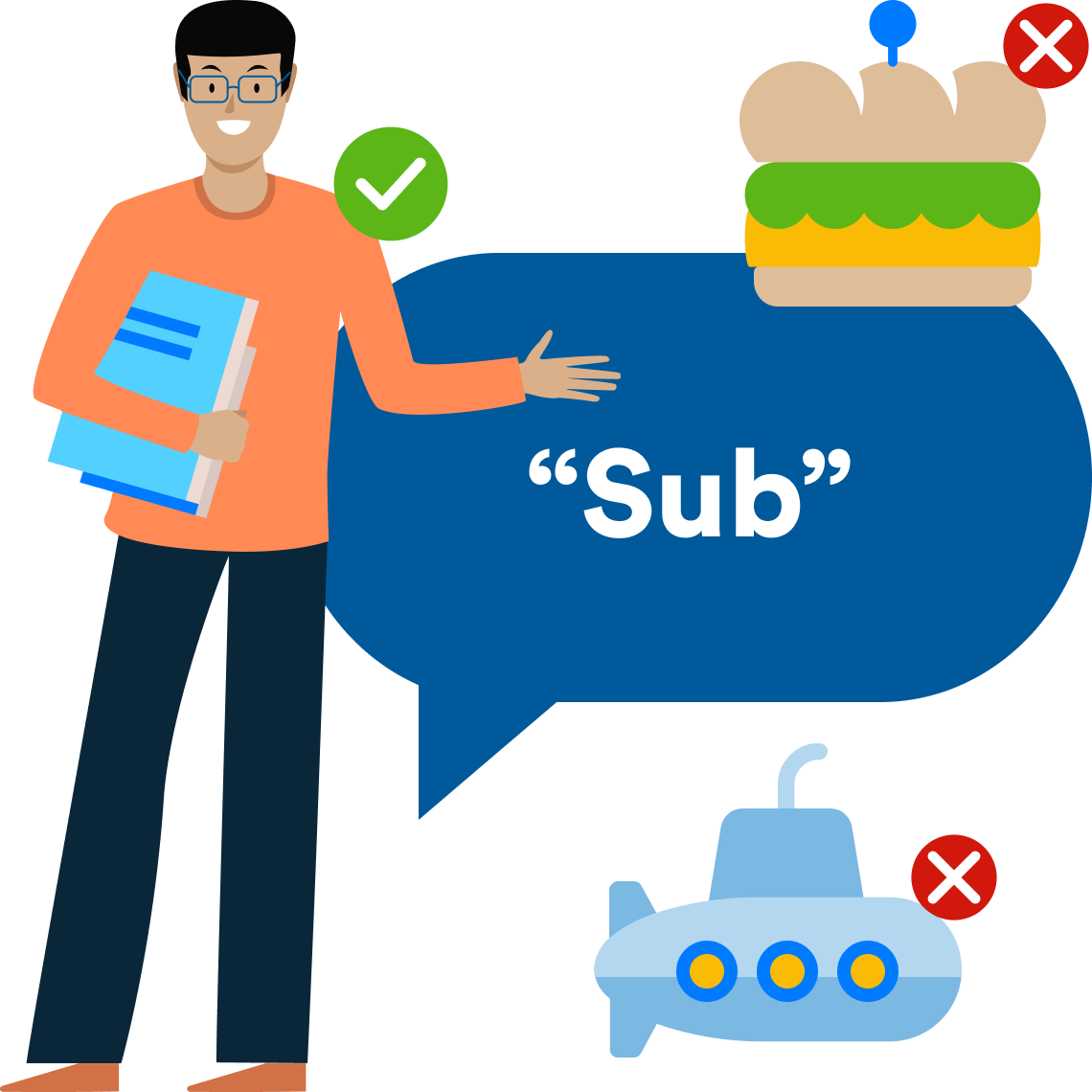 Our unique platform
We use evaluations from our human translator network, active feedback from families and teachers, continual refinement of our glossary, and platform engagement data to inform our machine learning platform for continuous improvements to our translation capabilities in 100+ languages.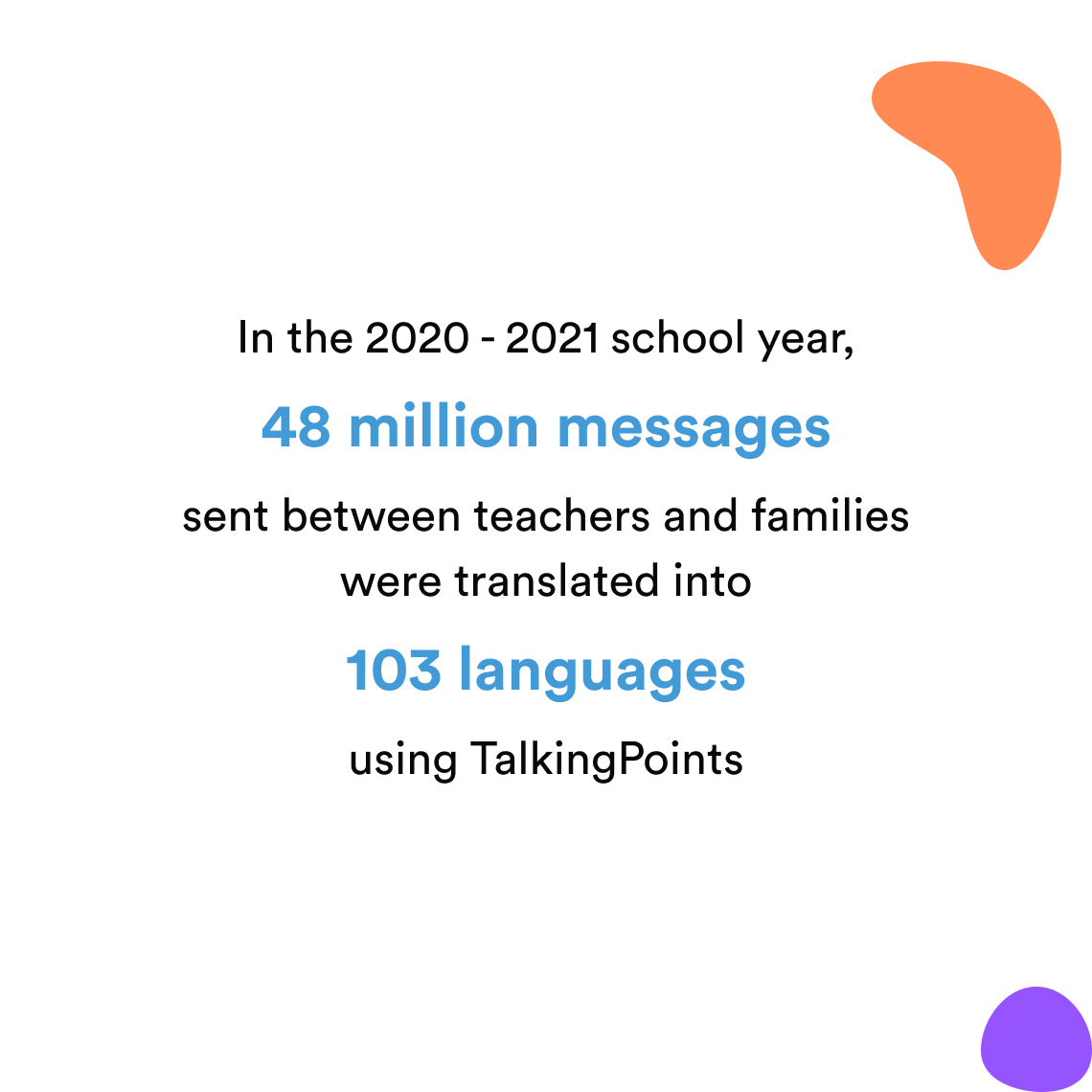 Our most frequently translated languages
Spanish
Simplified Chinese
Traditional Chinese
Vietnamese
Portuguese
Arabic
Less commonly-spoken languages we also support
Somali
Swahili
Burmese
Nepali
Russian
Haitian Creole
Translation in action!
Better translation support
Before TalkingPoints, I would rely on bad translations, or have to ask one of our paraprofessionals to call the family. With TalkingPoints, I can text a Spanish-speaking parent and have a direct conversation with them. If I get a translation that confuses me, I submit it for review and it always comes back to something I can understand and reply to. I know my families are getting critical school information in a way that they can understand.
Increased parent engagement
I have had more parent engagement this year than in years past and it gives teachers an opportunity to communicate directly with the parents versus always having to use the district's interpreter.
Engaging with ALL families
Our district has many languages represented, and we do not always have an interpreter for all of them. This tool allows us to communicate important information to ALL families. It has also empowered classroom teachers and office staff with the ability to communicate with multilingual families, which has strengthened home-school communication and relationships! We LOVE that our messages go directly to parents' phones without needing an email!
Breaking through language barriers
Me gusto mucho y la verdad fue una muy buena opción para mantener una comunicación entre maestros y padres de familia. A veces, la única opción que hacía era llamar a la escuela para cualquier duda que los padres teníamos, pero con TalkingPoints es algo nuevo y mejorado. Estoy muy feliz con esta aplicación porque se hace más fácil la comunicación entre padres de familia con los maestros muchas gracias se los agradezco mucho.
Building parents' capacity to help at home
Me encanta porque estoy al pendiente de todo el progreso de mis hijas, y me dicen cómo ayudarlas. Y me agrada conocer a todas las maestras. Este año ha sido difícil por lo que está pasando y han bajado los grados mis hijas, pero confío en las maestras para poder sacarlas adelante.
Real-time updates from my child's teacher
I thank you all for this because I can keep in touch with my kids' teachers. We're always talking about how my kids are doing, and when they need me, they message me on TalkingPoints. I'm grateful for TalkingPoints. As a parent, I like the teachers to keep me updated.
Text - no smart phone or computer needed!
I like it for my ELL families because they have the option of messaging via text. They don't have to use an app or desktop. Most of the parents message me via text. New video w/cc feature is also great!
Powerful tool for all school staff
In honor of national school counseling week, I wanted to give a huge shout out to @TalkingPointsEd. My students speak 21 different languages, and I would be lost without it. It is truly critical in my work supporting families and making our school an equitable place to learn.
Translator highlights
Meet some of our TalkingPoints Translators team!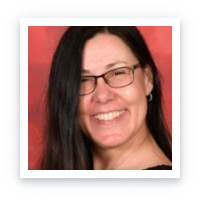 Monica Stauffer
Brazilian Portuguese and Spanish
Born in Brazil in a city that borders Uruguay, Monica grew up speaking Spanish and Brazilian Portuguese. At age 12 she started studying English and fell in love with the language. Monica fully identifies with TalkingPoints' mission to "drive student success by using accessible technology to unlock the potential of family engagement in children's education,'' and she joined our organization to use her language skills to make a difference for millions of our families.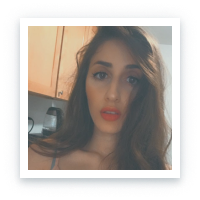 Rose Taylor
Arabic, Spanish
Rose spent her childhood as an American expat in the Middle East, where she attended an international school and made friends from all over the world. This expanded her world view and gave her a passion for travel. She's fluent in Arabic and studied Spanish as well. What she loves most about her three years working with TalkingPoints is "helping Arab parents feel involved in their students' education despite a possible language barrier."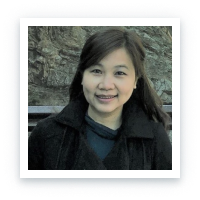 Thy Uyen Le
Vietnamese
From a young age, Thy had an interest in other languages and culture - a passion that led her to pursue undergraduate studies foreign linguistics, with a focus on English and Chinese. Since 2017 she has worked with TalkingPoints providing translation support for nearly 20,000 messages between Vietnamese parents and their children's schools. As Thy notes: "It is so wonderful that I have the opportunity to relay these messages. I believe there is a positive outcome to both Vietnamese parents and children when the parents are able to understand more about the school environment."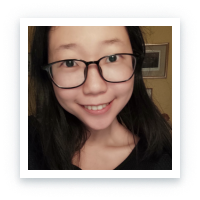 Aye Myint Myat Khine
Burmese
A native Burmese, Aye Myint Myat Khine, who goes by Rosie, was recognized by the former president of Myanmar as a national winner of Central Level English Proficiency. She has used her background in translating between English and Burmese to bridge language barriers to help many types of people - including refugees, students, teachers, and parents - communicate. At TalkingPoints, she helps ensure Burmese-speaking families are empowered to support their children's education and build relationships with their teachers and schools through two-way translated communication.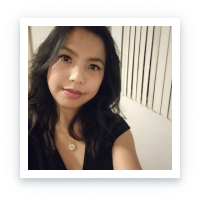 Kate Ranada
Spanish, Filipino
A native Filipino, Kate not only provides translation support for Filipino families on TalkingPoints, but having lived in Mexico for many years, indulging in its rich culture and traditions, she enjoys harnessing her Spanish skills to serve the Spanish-speaking families as well. In her four years working with TalkingPoints as a translator, Kate notes that "it is not easy during this pandemic: no one is prepared, but with the dedication of the team to propel family engagement to better educational outcomes, most especially in the underserved communities, we are able to strive through these difficult times. I couldn't be more proud. It's fulfilling to take part in this team's advocacy. My experience with this non-profit organization has been one-of-a-kind."
Join us!
Are you passionate about removing language barriers from school-family communication? Join our mission to connect all families with their children's schools and teachers in partnership to support student success. If you're interested in becoming a TalkingPoints Community Translator.