Your Giveaway Dream-Team:
TalkingPoints & Monica Burns


We're celebrating the kickoff of school with a GIVEAWAY you're sure to love!
Monica Burns, the superstar behind @ClassTechTips has partnered with TalkingPoints, to giveaway FREE ACCESS to the Easy EdTech Club for 10 lucky winners!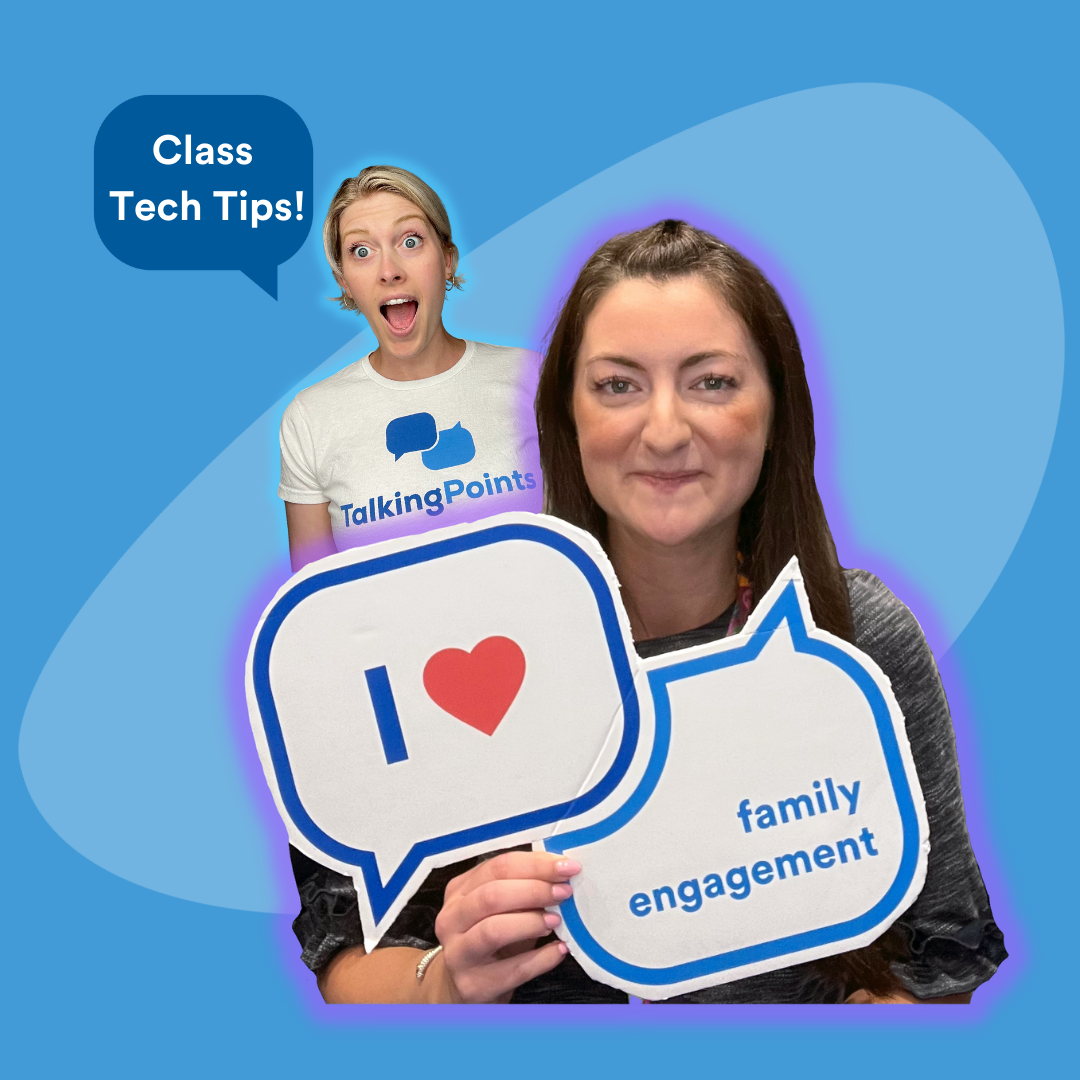 How to Enter
At TalkingPoints, we couldn't be more excited that our users keep returning to our platform year after year. To enter the giveaway, share a #TPThrowback picture of you from your first year of teaching. Let's celebrate those who are dedicated to coming back year after year!
Share your 1st year teaching picture on Facebook, Instagram or Twitter with the hashtag #TPThrowback.
Not able to register on social?
Get More Entries!
Comment on someone else's pic in the hashtag feed.
Tell a friend to post and tag you in their post.
We'll choose 10 random winners to join the 100s of Educators in the Easy EdTech Club FOR FREE.
Dates
Entries for Giveaway: July 18, 2022 to July 29, 2022
Winners Chosen and Announced: One per day between August 1, 2022 - August 12, 2022
We can't wait to see your #TPThrowback picture!
Download Our Free App
Click below to register online or scan the QR code to download the app directly.
Official Contest Rules
PROMOTION DATES:
Opening/closing window for entry: July 18, 2022 - July 29, 2022
One winner to be chosen and announced each day between August 1, 2022 and August 12, 2022.
ELIGIBILITY
No purchase or payment of any kind is necessary to enter or win this contest. You must be 18 years of age (or the age of majority in your jurisdiction) or older and a legal resident of the United States to participate. Void where prohibited.
TOTAL PRIZES TO BE AWARDED
10 paid in full 1 year memberships to Class Tech Tips. Valued at $140 each
No cash alternative to prize is available and TalkingPoints reserves the right to substitute a prize (or portion thereof) with one of approximately equal or greater value. Participants are responsible for all applicable federal, state, territorial, provincial, municipal and local taxes, costs associated with currency exchange, or any other costs and expenses associated with prize receipt, acceptance, or use. Use of any prize(s) that have associated use terms such as gift cards, software, online services, or subscription products is subject to any terms or conditions that may accompany such products as issued by the service or product provider.
HOW TO ENTER
On Twitter, post a photo from your first year of teaching before July 29, 2022. Use hashtag #TPFirstYear in your post.
Each Participant may post up to 10 posts during the Promotion Entry Phase. Regardless of the number of Entries entered, each Participant is only eligible to win 1 prize in the Promotion.
Entries received by other methods will not be accepted, and no entries will be acknowledged or returned.
SUBMISSION GUIDELINES
Entries must be in good taste and keeping with TalkingPoints image, as determined by TalkingPoints in its sole discretion. Entries must be suitable for publication and viewing by all ages, and must not contain material that is indecent, obscene, tortious, defamatory, harassing, harmful, slanderous, libelous, disparaging, objectionable, or that promotes bigotry, racism, hatred, harm, or discrimination against any group, individual, or entity (as determined by TalkingPoints), or any other material that is unlawful, or in violation of or contrary to the laws or regulations in the jurisdiction from where the Entry is sourced or submitted.
Entries must contain only original content (photos, text, images, or other original materials created by the participant.
If the likeness of a person appears in an Entry, it should be only that of the Participant. However, if an Entry contains the likeness of persons other than the Participant, then by submitting the Entry, the Participant represents he/she has permission from all recognizable persons, or the parent or legal guardian of any minor child) featured in the Entry to use such person's name and/or likeness, and to grant the rights granted to TalkingPoints in these Official Rules.
WINNER SELECTION AND NOTIFICATION
The Winners will be selected in a random drawing from all eligible entries received. All decisions are final and binding in matters relating to the giveaway. The odds of winning depend on the number of entries.
Winners will be chosen and announced each day between August 1, 2022 - August 12, 2022 and notified by a Twitter direct message to the account used for entry. The twitter account and username will also be tagged in a post announced on the day of winning.
If a potential winner cannot be contacted, is contacted and does not respond in a timely manner with all required information, or fails to claim the prize as directed within the time allotted following attempted notification, refuses the prize, is ineligible to accept the prize, is otherwise not in compliance with these Official Rules, or if the attempted prize notification is returned as undeliverable, then the prize at issue will be forfeited
The odds of winning a prize will depend on the number and quality of eligible Entries received
PROMOTION ORIGINATOR
TalkingPoints 1161 Mission St, San Francisco, California US
LIMITATIONS OF LIABILITY
The Released Parties do not guarantee the processing or posting of any Entry or Vote, or the functioning of the Site. The Released Parties are not in any way responsible or liable for any act, omission, or breach of contract or warranty by Participants, or any infringement or violation of any right of publicity, privacy, intellectual property or proprietary rights, or for any loss (including loss of opportunity) or other claim arising from or in relation to the Promotion, or any Entry or Vote submitted, or for the authorized or unauthorized actions of Participants or other third parties.
PRIZE DELIVERY
TalkingPoints will arrange and determine mode of delivery of prizes to winners
Allow 5 weeks for delivery of a prize.
RELEASE OF TWITTER
The Promotion is in no way sponsored, endorsed or administered by, or associated with Twitter. By entering, you understand you are providing your Promotion-related information to the Sponsor and not to Twitter. All inquiries in relation to the Promotion should be directed to the Sponsor.
PRIVACY
Participants' License and Consent to TalkingPoints use of Entries (A) TalkingPoints does not claim ownership of Entries, however, by participating in the Promotion and submitting an Entry (i) each Participant consents to, and grants to TalkingPoints and its agents, a, worldwide, perpetual, royalty-free, nonexclusive, transferable right and fully-paid up, fully-sublicensable license, under any and all rights, to use, modify, reproduce, distribute, publicly perform and publicly display, publish (or not publish), in whole or in part, the non-personal or non-identifiable data and creative elements comprising his/her Entry (together with or without his/her name, voice and/or likeness and hometown, collectively, "Persona", which Persona each Participant consents to, and agrees may be used by TalkingPoints according to these Official Rules for a period of up to 1-year from the Promotion start date as necessary for the purposes of starting and administering the Promotion and through any media channels, including on and through the Site and public viewing gallery, and other websites and TalkingPoints-branded social media channels, without any further attribution, notification, or compensation to the Participant, his/her successors or assigns, or any other person or entity.
Adherence to TalkingPoints Privacy Policies