Written by Paige DeLozier
It's easy to want the best education for our students. But building the relationships between school and home to make that education possible isn't always a smooth journey.
Families and teachers may face constraints on time, resources and skills to foster these connections–and that's just in a normal school year. Changes to learning environments have created additional relationship-building roadblocks. Educators and families alike now face demands like teaching, learning and accessing new technology while trying to juggle childcare and work. Many families (and educators too) are coping with burnout, illness or other impacts on their wellbeing, making it tough to stay connected.
At TalkingPoints, we know that challenges to successful family engagement can loom large. But we also know the connection between home and school is more critical than ever to helping students succeed, especially across the digital divide. That's why we're here with tips on how to overcome family engagement roadblocks and ensure smoother sailing to student success.
Roadblock 1: Lack of time to connect
Between grading, lesson planning and learning new tech, finding the time to meaningfully engage dozens of families might feel mathematically impossible. This can be especially true for English as a Second Language (ESL) teachers, who might be tasked with helping other educators at their school connect with families across language divides.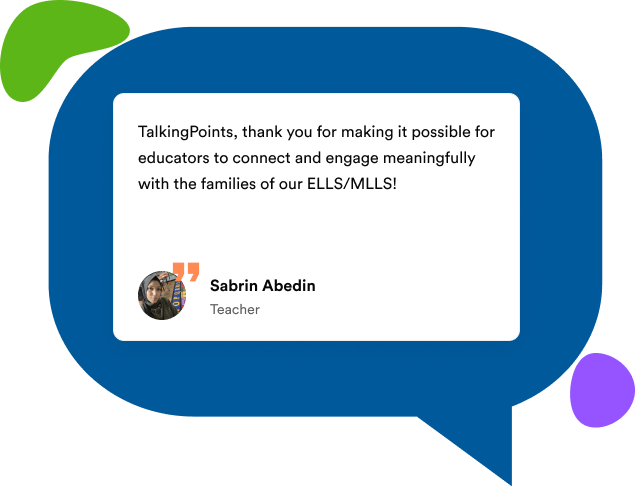 Families too often have limited time to make connections with teachers. This is especially true for many under-resourced communities, who disproportionately manage adversities like odd work hours and illness. Juggling these challenges at home can make it incredibly tough for families to support their students and stay consistently connected with school. Solution: Before you get overwhelmed, know that a little engagement goes a long way. Even a simple hello or regular check in to see how a family is doing makes a difference and lets them know you care.
Planning messages is also helpful—and can help you meaningfully reach more families. If you have 25 students, try scheduling five check-ins per day to keep the engagement manageable and meaningful (You can even do this in advance by scheduling messages on TalkingPoints. Here's how.) Have multiple classes? Send out a class-wide message on TalkingPoints, and send individual follow-ups to any student or family who may need additional support.
Roadblock 2: Lack of response or language barrier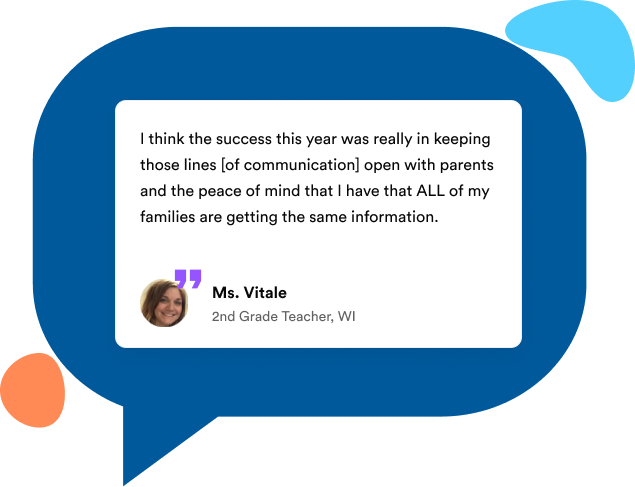 For educators, trying to build relationships between school and home can feel frustrating if responses aren't coming in. Worse, it may lead to assumptions about families, which can make it difficult to build trust and strong connections in the future. Building relationships across language barriers can feel incredibly challenging for teachers and families as well. This is especially true for many immigrant families, who have to navigate a new education system—along with school-based relationships—in a language not their own.
Solution: Seek to understand what families need and what works for them when it comes to communication. All families want what's best for their children, but there may be circumstances that make it difficult for them to follow up regularly. A lack of trust in schools based on negative experiences in the past may also make it challenging for some families to readily connect.
Consistently checking in to ask how you can support their student with specific assignments, and offering positive feedback about their student, shows families how much you care. So does asking them how they prefer to receive communication, and when they are available to connect.
What if there is a language difference? Translate class materials to accommodate families, and use TalkingPoints–which offers automatic translation to send and receive messages. With over 100 languages available, TalkingPoints makes it as easy for you and your families to connect and build meaningful relationships.
Roadblock 3: Access to technology and support
From online curriculum to video chat platforms and beyond, digital tools now dominate the school day for many students. Learning how to use and keep track of these tools, though, can be a big challenge for students—and the families trying to support them. This is especially true for students who do not have access to their own working devices or reliable WiFi. Students and their families may feel frustrated by these tools or unable to access them consistently. This can cause a rift in the home-school relationship at a time when it's needed most.
Solution: Before introducing a new digital tool, build in time for learning and support–for families and students alike. This might include sending a step-by-step guide to the tool and how students will use it to complete work or connect with classmates. Better yet, create a "how to" video for the tool and share it with families via TalkingPoints- here's how.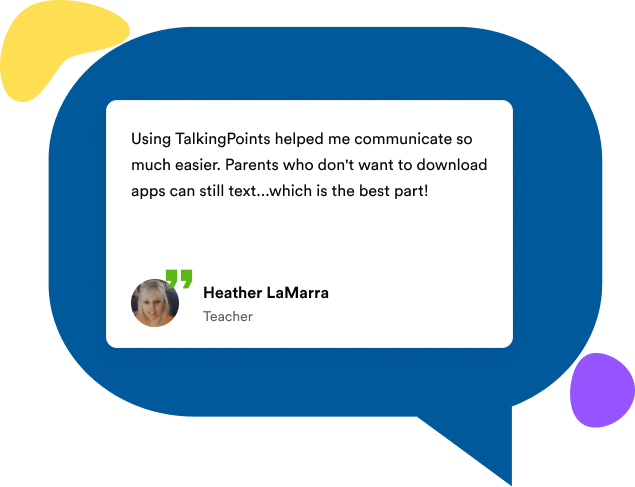 It might also include finding time for phone calls and video chats to help explain the tool to families who need extra support. Keep in mind that families have different needs and learning curves when it comes to technology. Providing a range of support options shows that you have their needs in mind, and will help foster stronger connections.
If families can't readily access tech, find ways to adapt to their needs, like offering paper-based versions of assignments or sharing locations where families can get online, such as local community centers and libraries. By learning and responding to families' needs, you'll be able to get past those roadblocks and build strong relationships between school and home—and make a lasting difference for your students.
Want to Learn More?
TalkingPoints' easy-to-use platform, interactive features, and precise translation in over 100 languages can provide game-changing solutions for bridging the home-school gap for teachers, school districts, and families. Learn more about our services here, and contact us at hello@talkingpts.org to learn more about how TalkingPoints can increase family engagement, improve home-school connections, enhance relationships between teachers and families, and support academic and social-emotional growth for every student. For updates and news on what we're up to, follow us on Facebook, Instagram, and Twitter. Check out our blog for free resources on remote learning and family engagement and see how other teachers are using TalkingPoints to make a difference in their students' learning.