2021 back-to-school: a unique family engagement opportunity
Although we face yet another uncertain school year as students prepare to head back into classrooms, one thing is for certain: we have a once-in-a-lifetime opportunity to invest in families and students in under-resourced, diverse and multilingual communities – those which have been disproportionately impacted by the pandemic-induced school closures for more than a year and hardest hit by the pandemic.

Pandemic lessons & insights
When reflecting back on the 2020-21 school year, school-home connections continued to be essential as schools and teachers worked toward transitioning back into the classroom. As we ended the school year, which for many was a full year of distance learning, we at TalkingPoints wanted to understand what the pandemic's impact was on family engagement as well as family and educator capacity to support student learning. We design our multilingual communication platform to help foster effective relationships between schools and families in under-resourced communities, and therefore, it seemed natural to research into what makes communication and relationship-building effective – its frequency and the nature of what is shared – as an ongoing focus of our work.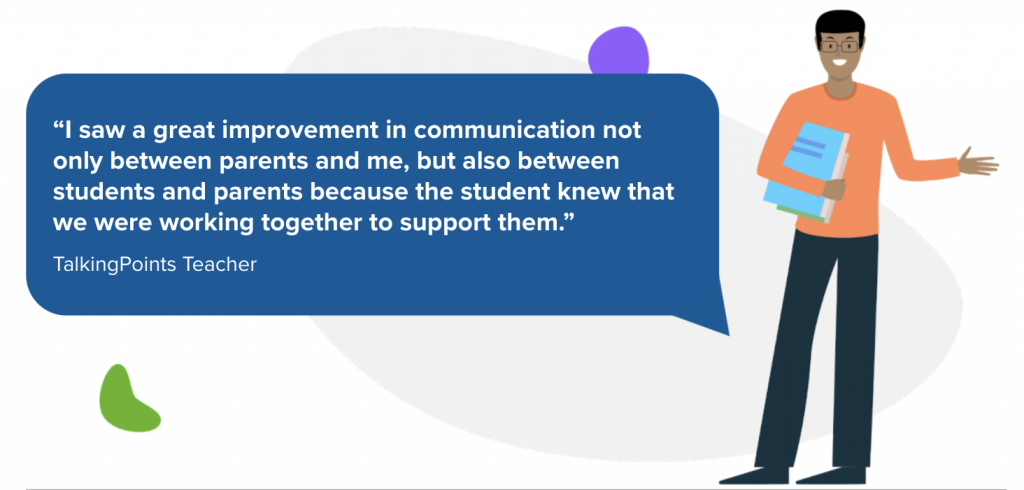 In June 2020, we looked at the early days of pandemic-induced distance learning and impact on families and educators and published the research report, "Family Engagement, COVID-19, and Distance Learning: Data & Insights from the Field." 
Now, a year later, our new report "Family engagement and its impact during distance learning: follow-up report" re-examines what changed after a whole year of distance and explores how family-teacher communication impacted the learning experience in the past school year. Based on a survey of 1500 or so educators and families across the country, we share key insights from our findings in the hope that they will help inform the field's work to support family-school partnerships and the important role those partnerships should play in the upcoming school year. 
Our key findings from the report include: 
Family-teacher communication is a top – and increasing – priority for teachers and families. 
Frequent family-teacher communication positively impacts student learning and well-being, especially for students from non-English-speaking families. 
Personalization and the nature of the communication matters. When conversations supported building a deeper understanding of each family's needs and circumstances, both teachers and families reported higher levels of student success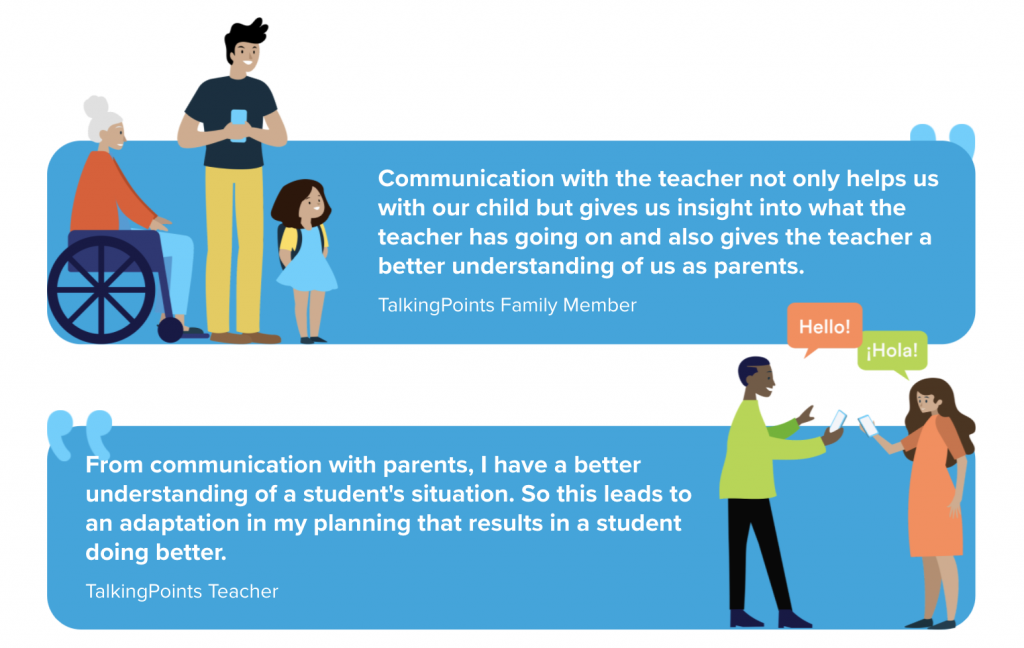 Information gaps between families and schools
The survey also highlighted an emerging area of need: addressing the growing gap between what families and teachers share with each other and what each group needs to know to help students thrive. Families are hungry for a better understanding of their student's progress and a clearer sense of what is happening at school. They want more frequent connections and communication with teachers. On the other hand, teachers wish to understand each student's home circumstances more deeply and what each student may need to succeed as they emerge from pandemic-influenced learning environments.

The year ahead: putting insights into action
The new school year will bring a new set of challenges when students return to classrooms. But, by keeping family engagement a top priority and increasing, improving, and personalizing family-teacher communication, TalkingPoints and others can help strengthen home-school partnerships to ensure students achieve success in the coming school year and beyond. We hope our findings will help inform the field's work to support family-school partnerships and the important role those partnerships must play in the upcoming school year.
Despite the challenges presented by the pandemic, we are encouraged that families and educators continue to be full of the highest hopes and dreams for their students, gratitude for each other, and a dedication to learning how family-school partnerships might evolve for the better in the coming school year. We, too, are filled with hope, optimism, and gratitude for how together we can build on the progress made during the pandemic and use this groundwork to fuel ongoing student success in the years to come.
Wishing you a safe and successful start to the new school year!
Heejae Lim
Founder & CEO
TalkingPoints
Note: TalkingPoints is looking for partners in the research, education, and philanthropy fields to advance our work. Learn more by contacting us today at philanthropy@talkingpts.org